Big batches of stick-to-your-ribs food, kid-friendly, that will leave easy to enjoy left-overs, that can be built in a single pan or pot will be popular everywhere, always, but I particularly enjoyed how easy this was to make in the galley — one pot, minimal counter space needed, many easy to find ingredients, many shelf-stable ingredients, and big results.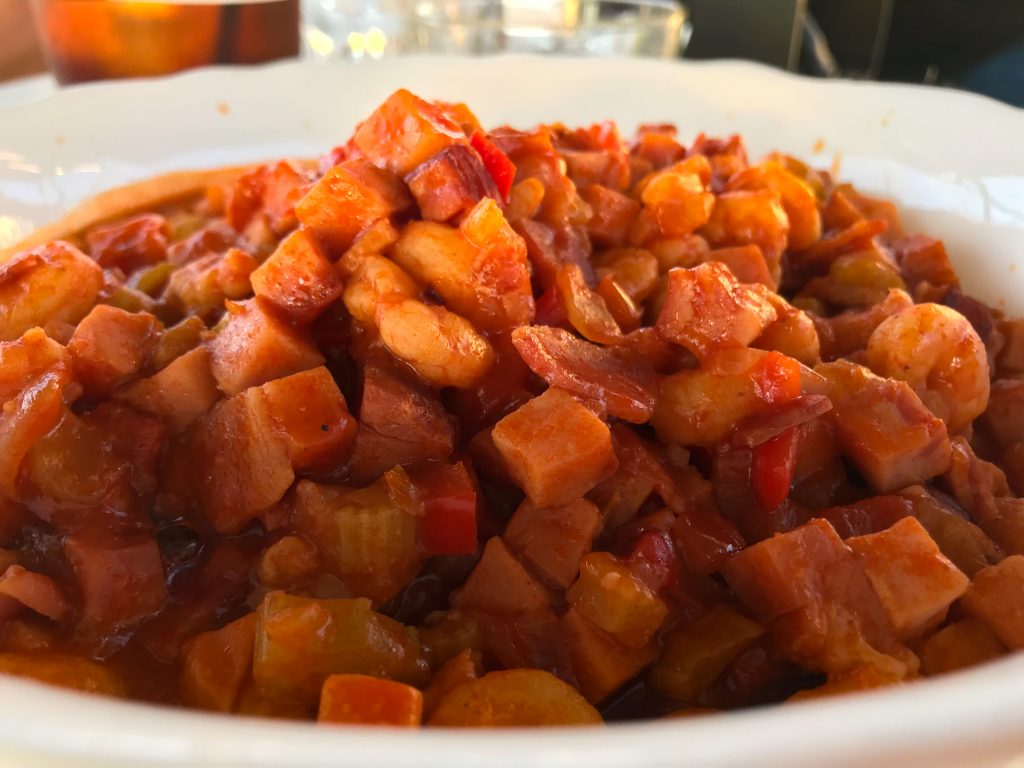 I give you Mrs. Allan's Wartime Jambalaya (from about 1946)
The etymology:
"Family recipes" are special — they are a true language of love.  Knowing the lineage of the recipe, how it was handed down, makes us want to make it and add to the story.  This recipe, as of 1970's, had become a special treasure of the Smith-Sidell family, from Mobile, Alabama, and in 1973, made it's way to Canada…
Stephanie Smith: One of our family recipes on the Sidell side is Grandma's Jambalaya. This is the first "real dish" I recall learning how to make, and if I bust it out for you, know that I love you. Its also a recipe that makes me laugh every time I make, because it is a wartime recipe. It comes together in about 45 minutes, and most of the ingredients are pantry staples, not fresh. The "red creole sauce" is Campbells tomato soup, with ketchup, garlic powder, & celery salt. Its nothing like the (more popular around here) "brown cajun jambalaya". Its the antithesis of what I normally consider "good cooking". But it *is* good, and it is such a part of my history.
Grandma Dorothy was from New York, but her family moved to Mobile when she was a teenager. In 1946, she married a handsome young fellow named Arthur Sidell, and started a family. As a young bride, Dorothy obviously would have collected recipes from a variety of sources. From her neighbour, Mrs. Allan, she received this particular jambalaya. It probably originated from a newspaper, or maybe even the label on a soup can, but we've never been able to find a published recipe like it.
When Dorothy & Art moved their family to Ohio, the recipe came with them. Along with other recipes, it passed down to their children, and their children's children. This particular children's child was moved to Ontario, Canada as wee one, and now shares it widely.
My mother, Carol Sidell, once entered this recipe in a TV cooking contest in Columbus, Ohio, and got to cook it live on TV; it did not win, but the TV production crew all found reasons to gather round, drawn in by the aromas.
Cedric: I learned the recipe from Stephanie; the recipe expanded to British Columbia when she made it for my sisters family, who discovered that they really *can* love jambalaya. In 2019, I had an experience much like the TV Crew in Columbus — I was making a double batch (The first rule of Southern Cooking: always make enough for an army) on a boat, when Tiffany (originally from New Orleans!) in the next boat over smelled what was up, the next thing you know, I had merely made just enough for everyone, and I'm typing this as part of cleaning up the recipe so that I can share it on to her family.
Servings: 4 (Free advice from a stranger: "Make a double batch.") (Also, the amount required of most ingredients is approximate; this is very forgiving cooking.)
Ingredients:
Jambalaya is served over:
1 cup White Rice
Group 1 – to saute:
1 pound American-style bacon, cut up
1 cup Ham, cubed (American style – ham steak, tinned cooked ham, or similar)
Group 2 – to saute:
2/3 cup Celery, chopped small
1/2 cup Onion, chopped small
1/2 cup Green pepper, chopped small
Group 3 – to simmer:
1 can Campbells concentrated tomato soup
2 tbsp Ketchup (eg: Heinz)
1 tbsp Worcestershire Sauce
1/2 cup water
1/2 tsp garlic powder (can substitute granulated garlic)
1/2 tsp onion powder
1 tsp celery salt
Group 4 – to simmer:
1 lb shrimp (~20/25 per lb – raw or cooked, should be bite-size, tails off)
Group 5 – at serving time:
Tabasco sauce – an individual preference, but very highly recommended.
Equipment:
– a large, deep frying pan or broad pot with low or medium height sides, in which you will assemble the entire Jambalaya by sauteing and simmering everything except the rice.
– whatever you need to make rice.
Directions – Rice:
1) Make rice however you like; rest of the recipe takes about 45 minutes, so the rice can be started during the sauteing of the vegetables or start of simmering, and sit on the side once cooked, and still be plenty warm enough when it comes time to serve.
Directions – Jambalaya:
1) Gently saute the bacon and ham (Group 1 ingredients) until bacon fat is somewhat rendered.
2) Add all the chopped vegetables (Group 2 ingredients) and continue to saute until the vegetables are somewhat cooked, but still have some remaining fresh taste/texture.
3) Add everything EXCEPT for the shrimp (all the Group 3 ingredients), and simmer for 10 minutes.
4) Add shrimp (Group 4 ingredient), and simmer 20 minutes.
5) Serve over hot, cooked rice.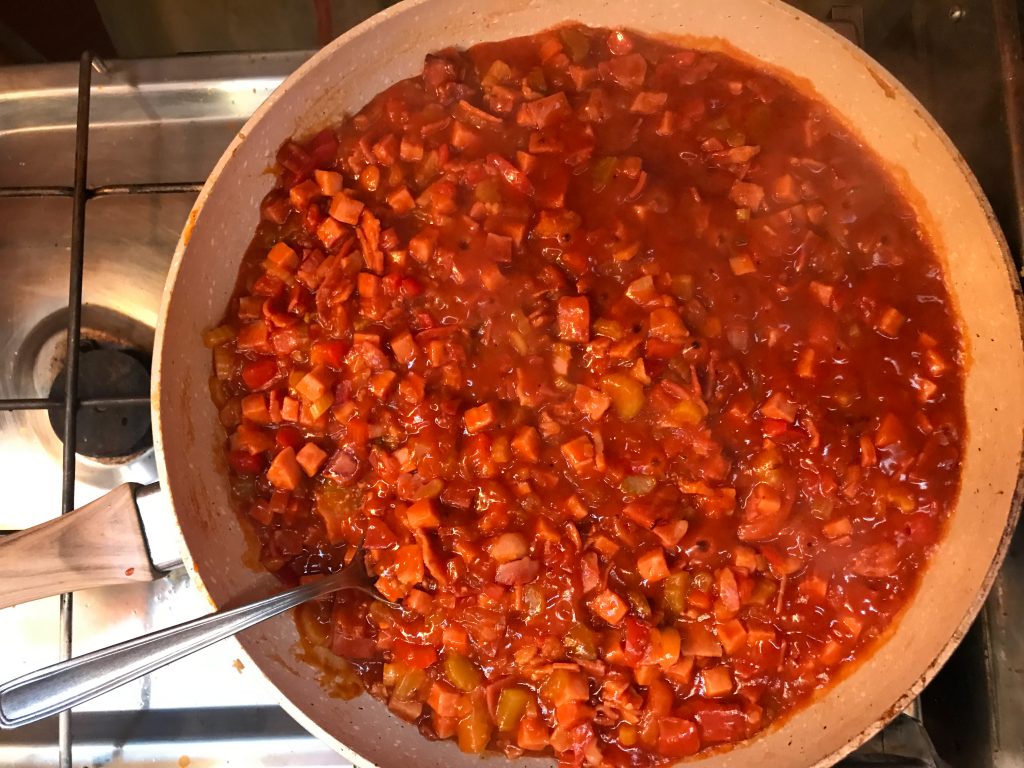 Notes:
1) According to Donald Link, jambalaya made with a tomato sauce & shrimp with meat & sausage is a Creole jambalaya (as opposed to the "more rustic" cajun style.)
2) Campbells Tomato Soup is an extremely smooth plain tomato soup of medium thickness that coats the mouth fully with flavour; it's thickened with Xanthan Gum, and it's generally sold in condensed form, so normally mixed 1:1 with water.  If you have a similar product, but not condensed, then you will need to add time to reduce it, but you need only reduce it enough that you can omit the extra water the recipe calls for, as opposed to reducing by a full half.  Alternatively, there are copy-cat recipes online that would get the job done for you as well.  The point of this is that it creates the thick foundation of the dish; jambalaya is normally made with a flour and oil base as a thickener, and the thickening agent in that soup is critical.