Malaga Day 2 – A patented cure-all Cedric-special guest blog post.
Sunday, Sep 15, 2019, 9:52 PM GMT+2, Mar Mediterrania, Andalusia, Spain, 24C, Mostly Clear.
The time change to Europe seems especially brutal in the mornings, this time; I did not notice it at all the last time I came — how fortunate I was in my youth!
As it turns out, the cafe/bar in the building is perfectly lovely; some craggy Spanish types from Central Casting idling away the day with gossip, beers n' smokes, in the shade, ruffled by the sea-salt breeze coming from the beach. Crucially, though, €2,80 will get you a café con leche grande (think small latte) and a Jamon Serrano sandwich — this rounds out some of the sharp edges on a rough morning indescribably well.
Speaking of that "sea-salt breeze coming from the beach"; it really is quite close to the building I happen to be staying in. I went down to walk in the surf … slightly cool, probably about 25 degrees (I should have put my thermometer in!). First time I've touched the Mediterranean, which feels a bit special; what with sailing coming up, I'm sure I'll have much less… "voluntary" contact with the Med in days to come!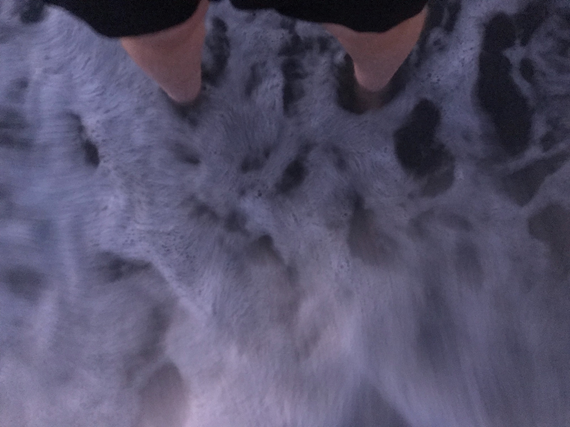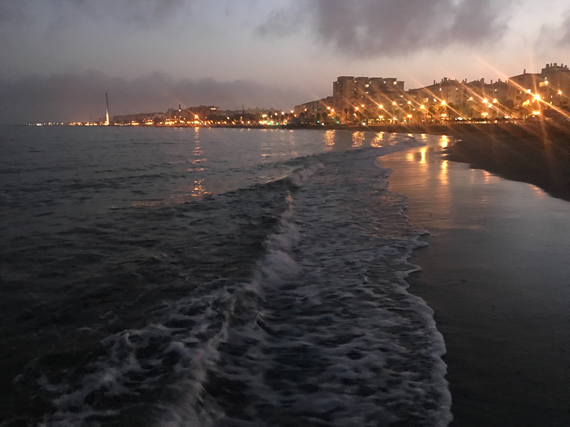 Above, we are looking west along the Malaga beach; towards the end you can see the apparently famous Malaga lighthouse. That sweet lens flair is a combination of shooting directly into the lights, and this technique that involves not wiping off optics before taking the shot.
I also had the interesting fortune to spot the mighty Woolly War Llama that guards the Port of Malaga: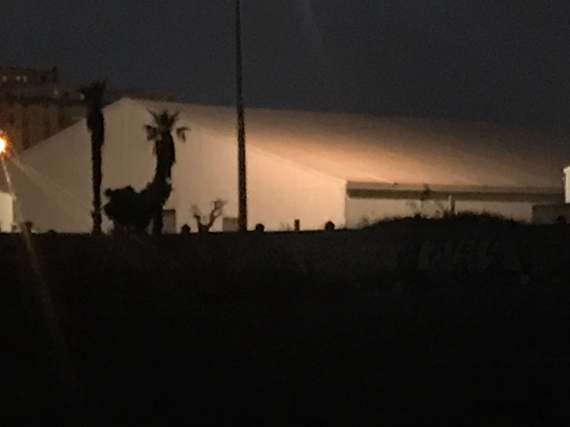 This giant beast has been mistaken by unwary ne'er-do-wells bent on vandalizing the port for just a coincidental arrangement of Palm Trees. Their horror, it is said, is typically short-lived, and reliably only ever experienced once in a lifetime.
I opted to not get up in this magnificent creatures grill, and it seemed pleased to ignore me completely. I'm told that it likes knee scratches from kind tourists (most people can't reach higher), but I'm not prepared to take on faith stories involving the natural kindness of Llamas, to be honest.
I did note, as I was cruising past the port, that their buildings are white, and that they are unmarked by tags and such. This story "checks out". (Hi Mark!)
Only time for a quick update; today (Monday, the 16th) I shift my butt from Malaga to El Ejido (which turns out is just a 3 hour bus ride, and I found a direct route, sweet!), but (News Flash!) logistics are still time-consuming.
Today's outro is this sign: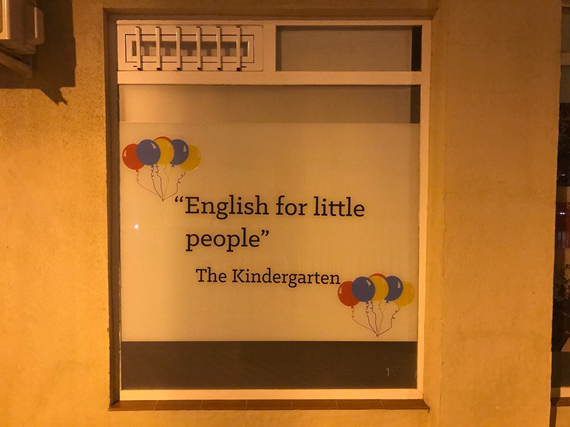 Personally, I think it would read better if it said:
The Kindergarten:

"German for Garden of Children, with an English Article for Some Reason"
-C!